Contrast-induced Nephropathy
Contrast-induced Nephropathy | Strategy (figure)
REF: JAMA Volume 295(23), 21 June 2006, p 2765–2779
Two risk scores for contrast-induced nephropathy developed from large interventional cardiology databases may be the most generalizable to this patient population.
Bartholomew et al 16 (n = 20 479) identified 8 variables that were associated with contrast-induced nephropathy
creatinine clearance <60 mL/min [1.0 mL/s],
use of an intra-aortic ballon pump,
urgent coronary procedure,
diabetes,
CHF,
hypertension,
peripheral vascular disease,
contrast volume
and created 4 risk categories based on their analysis.
They defined contrast-induced nephropathy as a greater than 1 mg/dL [88.4 µmol/L] rise in SCr with no specified time frame for post SCr measurement. By this definition, contrast-induced nephropathy occurred in 2% of patients.
Patients in the highest risk group had a 28% risk of developing contrast nephropathy and a 17% risk of death.
Mehran and colleagues (n = 8357) identified 3 additional characteristics that were associated with increased risk:
older age,
the presence of hypotension, and
anemia.
They used a less stringent definition of contrast-induced nephropathy (change in SCr >=25% or >=0.5 mg/dL [44.2 µmol/L] at 48 hours), which may partially account for the higher reported incidence of contrast-induced nephropathy (13.1%).
Management to reduce contrast-induced nephropathy
Hydration
IV normal saline 1 mL/kg/h for 6-12 h before and after procedure, or
IV D5W plus NaBicarbonate 154 mEq/L, 3 mL/kg for 1 h before procedure and for 6 h after procedure,
with monitoring for metabolic alkalosis.
In summary, there is suggestive, but incomplete, evidence supporting the use of hydration as a prophylaxis measure for contrast-induced nephropathy.
N-Acetylcysteine.
600-1200 mg orally twice daily for 2 doses before procedure and 2 doses after procedure.
N-acetylcysteine has been the most widely studied of all prophylaxis strategies
We believe that the available data do not allow definitive conclusions about the efficacy of N-acetylcysteine for prevention of contrast nephropathy. Or Ascorbic Acid Rx (see below)
Ascorbic Acid.
3 g orally 2 h before procedure and 2 g twice daily the day after procedure.
The results of a double-blind RCT evaluating the use of the antioxidant ascorbic acid 10 to prevent contrast-induced nephropathy in 231 patients undergoing coronary angiography are encouraging and deserve further study.
Extracorporeal Removal of Contrast
Hemodialysis effectively removes radiocontrast 126–128 and has been proposed as a prophylaxis treatment for contrast-induced nephropathy.
Vasodilators
Fenoldopam, a dopamine-1 receptor agonist with vasodilatory properties, has also been extensively studied. Three randomized trials (416 participants) have compared fenoldopam with placebo. The relative risk of contrast-induced nephropathy in one trial favored fenoldopam but was not significant. Continued interest in fenoldopam has persisted, despite the lack of benefit shown in the CONTRAST trial. 58 Additional randomized studies comparing fenoldopam with N-acetylcysteine 56,57 found no benefit associated with the use of fenoldopam.
CONCLUSIONS
In summary, contrast-induced nephropathy is a common condition that is associated with adverse outcomes and substantial resource use. Despite the clinical importance of contrast-induced nephropathy, much remains to be known about how best to prevent it. Well-designed and adequately powered randomized trials are urgently needed to study fundamental issues such as the optimal type, route, volume, and timing of hydration, as well as the role of other commonly advocated prophylaxis strategies such as N-acetylcysteine and fenoldopam.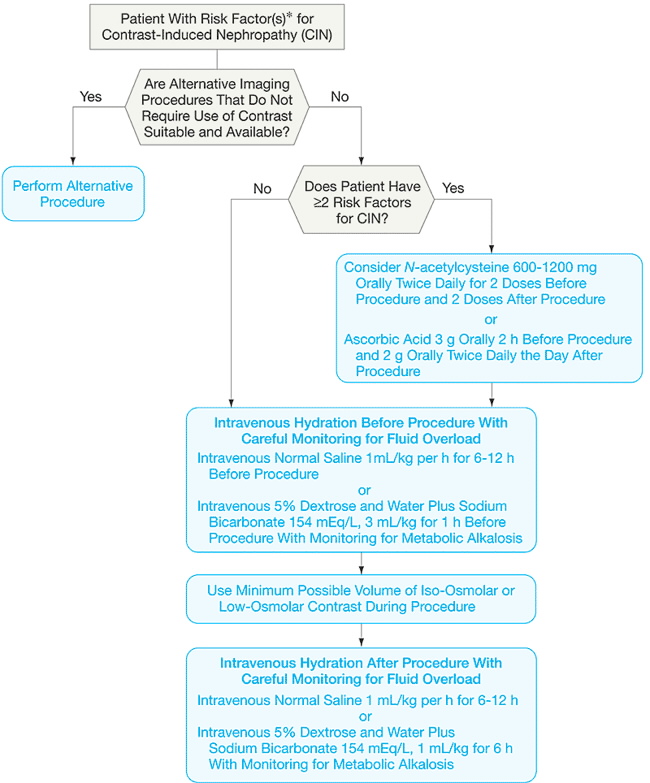 ---
06072003